Tyneside Tug Builders in alphabetical order of Surname
JP Rennoldson and Sons, South Shields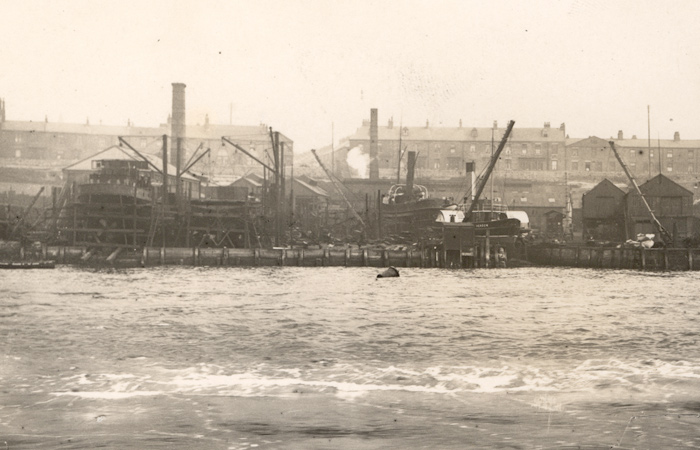 Above: The Rennoldson yard in 1914. Photo copyright Newcastle City Libraries
1837 - G Rennoldson, South Shields
1850 - JP Rennoldson, South Shields
1878 - JP Rennoldson and Sons, South Shields
1914 - JP Rennoldson and Sons Ltd, South Shields
The founder of the firm was George Rennoldson who was a millwright in South Shields in 1800 and by 1826 had started a small engineering works in Wapping Street, South Shields. By 1837 the firm was building locomotive engines but marine engines were coming to the fore and soon became the main product of the firm.

A list of Tyneeside engineers in 1865 included " Mr Rennoldson, South Shields, established 1847, Marine engineers: shops for the construction of engines and boilers for tug-steamboats. Total output 1847-1866, 4 stationary engines and 66 marine engines for towing"

After the death of the founder in 1850 his son James Purdy Rennoldson, conducted the business under the well known name of JP Rennoldson. By 1857 they had expanded into shipbuilding and repairing with some of the early vessels being constructed in North Shields. However, a yard in South Shields was acquired in 1863. This yard was part of the former Wallis yard at the Lawe but a "Patent slipway" was added to it. The yard was initially being used to construct and repair wooden vessels but by 1874 they were said to be building iron hulled vessels. However it is likely that such vessels were sub-contracted to JT Eltringham and JP Rennoldson provided the engines.

After the death of Mr JP Rennoldson in 1878, the business was carried on by two of his sons, Joseph Middleton and Charles, under the title of Messrs JP Rennoldson and Sons. The building yard was remodelled in 1890 and equipped to meet the demands of composite (iron frames and wooden decks, side strakes) and full iron construction methods. By this stage the firm was specialising in the contruction of screw and paddle tugs.

In 1896 the land vacated by John Readhead provide yet another, but the last, major extension. Two years later the engine works in Pilot Street, also vacated by John Readhead, were added to the company. The first fifteen years of the 20th Century were perhaps the "Golden Age" of the firm, producing many famous vessels for use throughout the world.

In 1913 the two brothers separated; JM Rennoldson keeping the engineering works and the old shipyard, while Charles opened a new yard nearer to the Groyne. The old firm was then registered as a limited company. JM Rennoldson died in 1916 by which time the four building berths at the yard had a maximum output of 6,000 tons gross, while vessels of up to 230 feet long can be constructed. The yard also possessed a patent slip-way which was 240 feet long. The well equipped marine engineering department had a maximum annual output of 6,000 IHP.

After the death of JM Rennoldson, the shipyard and the Engineering Works were managed by Charles Ross, his son-in-law. The yard closed in 1929 owing to a severe recession in both sides of the business.
The following is a list of tugs built by the Rennoldson companies:
KEY BELOW: D - Dimensions; H - History; P - Photographs